Sharjah Ajman City Tour – Sharjah Ajman City sightseeing
Sharjah city tour / Ajman City Tour / Sharjah Ajman Tour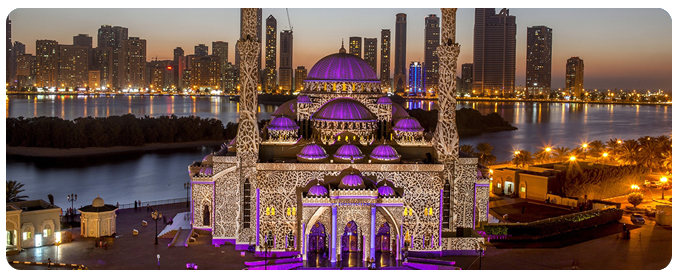 Sharjah Ajman City Tour:
SHARJAH, the city of Culture is located only a short distance from Dubai.
During our Sharjah Ajman tour we will visit:
Al Itihad Monument
The Ruler's Old Palace
The Natural History Museum and Archeological museum
Blue Souk, one of the most picturesque souks located on the edge of the lagoon, with its beautiful mosaics and traditional style
Majarrah Souk. It is built using Mosaic and has a Golden Dome
Ajman. The neighboring state. Visit to Ajman's impressive museum, housed in an old fort, which depicts   the traditional Bedouin life style before the discovery of oil.
Sharjah has been elected as the Cultural city of the Arab world in 1998 by UNESCO. It is located only 14 km's away from Dubai.
The first stop will be the Cultural Palace Square in Al Wahda Road. Next will be Ajman museum and then turning back and passing by beautiful Ajman and Sharjah corniches known for their white beaches you will be taken to the Palace of The Ruler of Sharjah. From there we will drive further to Souq Al Arsah on Corniche Road. This is presumed to be the oldest market place in United Arab Emirates and was once regarded as the heart of the city. Being here takes one to the ancient times. Here, in an air-conditioned alley with ancient traditional surroundings you will find numerous shops selling local handicrafts, ethnic jewelry, baskets, medicinal herbs and carpets.
After the visit to Souq Al Arsah, you will make your next halt at Blue Souq. Over here you will find as many as 600 colorful shops with great bargains for gold, silver, precious stones or modern jewelry or beautiful carpets and rugs. This is the most famous market in Sharjah which was built in 1979.
From there, driving on to Al Hisn Fort, former home of the Sharjah's ruling family. A large central courtyard with high surrounding walls which link three towers showcases the traditional architecture at its best. The pictures within the fort display various stages of the Emirate's development and events that are part of Sharjah's history.
Thereafter while driving back to Dubai, we will be passing by Buheira Corniche to admire the famous fountain, the third highest water jet in the world.
More info about Sharjah Ajman City Tour Package
Contact us