East Coast Tour Fujairah Tour Package
East Coast Tour Fujairah / Fujairah City Tour UAE /
Sightseeing tours Fujairah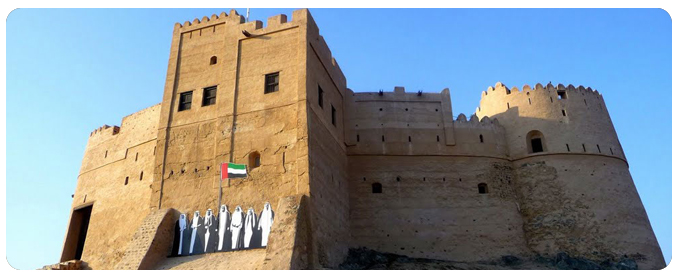 East Coast Tour Fujairah:
EAST COAST TOUR is an escape from the hassle bustle of the city Life to enjoy the scenic beauty of nature – a journey through the lush-greens of lands in the valleys of the Hajjar Mountains which consist of contrasting colors. We pass through the neighboring Emirate of Sharjah and the Eastern Sights of the oasis AL Dhaid, weekend market of Masafi, mountains of Dibba, the fishing village of Fujairah and the oceanic city of Khorfakkan.
The route offers an ample opportunity for photography en route. So remember to have your photographic equipment such as cameras and films etc..
En route we stop first at the oasis AL Dhaid to photograph palm Lands and strawberry gardens. Then we proceed with the journey towards Masafi. We pass through the multi-colored mountain escapes and riverbeds and reach the village of Dibba. From there we reach Bidayah where we stop at the oldest mosque in the U.A.E, still in operation, which is situated on the mountainside. After a photo shoot and having refreshing soft drinks, we proceed on our journey to Khorfakkan, situated at the foothills of the Al Hajer Mountains.
In Khorfakkan, during the lunch break, we are free to just relax or take a dip in the pool/beach of a Beach Restaurant while enjoying a sumptuous buffet lunch. Optional facilities of fishing and water sports of snorkeling, wind surfing and water skiing, rowing, cycling and even camel riding at the beach can be arranged on prior request.
After the lunch we relax at the poolside/beach for a while before proceeding to Fujairah. We pass through the remnants of the ancient Fujairah Fort.
On our way back we stop at the famous Fujairah Carpet Souq from where we can buy locally harvested fresh fruits and vegetables. Persian rugs, carpets and locally made potteries etc.
We will be reaching Dubai by late evening.
More info about East Coast Tour Fujairah Package
Contact us